Delhi Poetry Slam is a platform for emerging poets to get recognized and receive mentorship for growth. We conduct courses, artist residencies, performances and tours for spoken word poets.
For page poets, we accept their submissions for our monthly literary magazine called the 'Beetle Mag'. We also host a prestigious annual poetry competition called Wingword Prize to encourage more people to write poetry.
In the upcoming year of 2024, we have many plans for our beloved poetry community of India.
And we are extremely delighted to announce that we have launched the first ever Writing Studio in India. A space nestled in Central Delhi where poets and writers can create work of value and promote their works to a relevant market. At the studio one can be a part of creating spoken word films, audiobooks, podcasts, chapbooks, novels and much more. Our address is 10 Parliament Street (visit by prior appointment only).
Our motto is to inspire you to embody your truth and authenticity through the powerful medium of slam poetry. We've pioneered arts mentorship in India, opening up opportunities to develop as a writer and speaker. Establish a strong command on language and gain confidence. Welcome to our creative collective!
Find out about our upcoming opportunities below.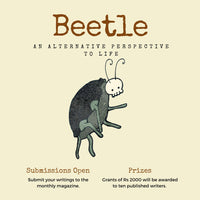 Beetle Magazine Invites Submissions
Beetle is an international literary magazine, filled with invigorating poetry, imaginative stories and straightforward essays. Accompanied by bold and visionary illustrations, Beetle envisions to do the important work of circulating a soul-touching narrative.  We are currently accepting submissions for December 2023 issue.
20 selected writers will be published in Beetle Magazine and receive a cash reward of ₹2000 each.  
Find Out More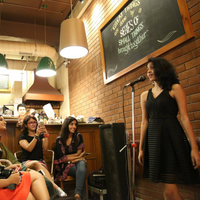 Open Mics
Open Mic is a competitive event where the audience will score the poets based on the weight of their words and their stage presence. Poems have to be 3 minutes or under. One winner receives 2500 Rupees.
To participate in the next event, subscribe with your email ID below on the page. You will receive a notification.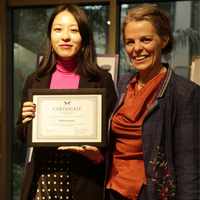 Wingword Poetry Prize 2023
Delhi Poetry Slam is the official sponsor of Wingword Poetry Prize, a platform that seeks to encourage emerging poets in India. The competition is held online on an annual basis, awarding a total sum of 5 Lakh Rupees in cash prizes to winners along with the opportunity to have their works published by us.
The first prize winner receives 1 Lakh Rupees and an opportunity to have their poetry book published by Delhi Poetry Slam.
The results for Wingword Poetry Competition have been declared.
The submissions for next year's Wingword Poetry Prize will begin 1st March 2024.
Visit official website
Our Recent Events
Poetic License: Event Celebrating Freedom and Equality
Delhi Poetry Slam hosted a spoken word poetry event at American Centre New Delhi, celebrating independent voices on freedom and equality. The show featured a mix of Indian poets including Dyutima Kapoor, Parul Mahajan, Tushar Srivastava, Shalini Chhabra, Samaira Sood, Parimugdha Nanchahal, Rishika Kaushik and Mira Price, and American poets such as Timothy E.G. Bartel, Javon Rustin and Christia Madacsi Hoffman. The evening made the audience ponder over questions of representation in our society, first amendment rights, gender-based violence and living in harmony. This event was held in association with Kutumb Foundation as a part of the Josh-E-Umang festival.
Poetry Event for French Insitut Jaipur
City for All was a public art festival questioning the role of gender in our cities. Delhi Poetry Slam was invited to showcase dramatized readings on the issue of gender equality at Bikaner House. Our poets performed on stage, drawing attention to the limited access to public spaces for women and transgenders who often feel unsafe and threatened. With the aim to restore access and mobility for minority communities in public spaces, the event was a huge success in making the audience rethink what it means to create a gender-equal society. The show was held at the open air amphitheatre in Bikaner House.

Inauguration of Demartcracy Exhibition
Delhi Poetry Slam hosted a poetry event marking the inaugration of DemArtcracy exhibition at American Centre New Delhi. While emphasizing on socio-political rights of citizens and what personal freedom means, our poets performed thought-provoking works that resonated with the audience. We brough to light the dreams and aspirations of the youth for absolute freedom, alongside live painting demonstration by Pramod Jaiswal. The event was held in association with Kutumb Foundation.
What our Members Say About us
I attended the Delhi Poetry Slam Retreat and in just three days it gave me more joy than I have ever had in my lifetime. They gave me a safe platform, a wonderful audience, a patient mentor and above all, the confidence to speak up. I learnt not only about the intricacies of spoken word but also about how to live life as an artist. Highly recommended for beginners and young adults trying to figure out how to channel their art.

Neha Saini
After travelling to many places, I finally ended up at Delhi Poetry Slam. I just felt myself heard and that a part of my story has been said aloud with people with such big hearts and open minds! There was warmth in every heart and I learnt not just about poetry but about the beauty of strangers. I have definitely become a richer person in thoughts and experiences, and I feel myself unburdened of my own chaos.

Subi Taba
Delhi Poetry Slam is a brilliant nurturing environment to craft the inner poet in you. You can get inspired and mentored by their tutors, who'll take your poetry to the next level. It is a place where you won't be judged for your opinions or other unconventionalities, but for the heart in your content. If you've got poetry spewing out of you and need to amplify your voice, I recommend you to be part of this community.

Cecilia Abraham
Popular Books Published by Delhi Poetry Slam