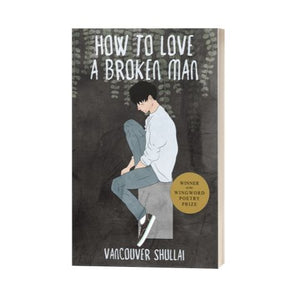 How To Love A Broken Man
Regular price Rs. 200.00 Sale
"But how extraordinary is my eagerness 
To know your name
To have breakfast with you 
To clear the sink with you
How extraordinary my kitchen feels today."
How to Love a Broken Man is a collection of poetry that will take you on a dreamlike trip. Vancouver Shullai's quest for limitless love, social belonging and the fire within.   
The poems delve on the importance of freeing one's self from the expectations of the society. Shall associates himself as the wild child of the society: unshaken by Auntie's rants or judgements. 
Vancouver Shullai is the winner of Wingword Poetry Prize 2017. Hailing from the lovely hills of Shillong, his poetry is a hybrid of old school vibrance and modern day madness. In this debut book, he encapsulates the right amount of endearment and rage necessary for a thrilling read. A taste of wanderlust while being stuck in traffic. 
Pages: 60
Standard Shipping (Included in Price)